Dr. Jordan Ma
Education: University of Florida College of Dentistry 
Fun Fact: Dr. Ma comes from a family of dentists. There are 16 dentists in his immediate family!
Dr. Julie Fox
Dr. Fox attended The Ohio State University College of Dentistry. During her Advanced Education in General Dentistry residency, Dr. Fox received one-on-one instruction from specialists in oral surgery and root canal therapy. Her goal is to provide best-in-class oral care and to give her patients a confident and radiant smile that will last a lifetime. Dr. Fox is committed to ongoing education and training to better serve her patients.
The ability to listen to her patients' desires, while using diagnostic data to formulate individualized treatments, is what sets Dr. Fox apart.
"I enjoy restoring peoples smiles so they can have a better quality of life. Social interactions center around eating and good food. I like to make people more comfortable while eating at functions."
Dr. Fox has also served our country and says that her time in the Navy has given her an appreciation for freedom.
When Dr. Fox is not in the office creating beautiful smiles, she enjoys sailing. She has sailed in five countries! She also enjoys hiking, road biking, ski paddle boarding, attending church and spending time with her family.
​Dr. Gladysbel Jimenez
Dr. Gladysbel Jimenez -attended Pontificia Universidad Catolica Madre y Maestra for her undergraduate degree. She then went on to receive her dental training and a post-graduate degree from Columbia University, College of Dental Medicine. Dr. Gladysbel enjoys dentistry because she is passionate about providing care and helping people. She decided to pursue a career in dentistry because she came from a family where everybody was in the medical field. Her father is a Doctor and her Mother is a Psychologist. She was inspired by her parent's desire to help others. Outside of the office, Dr. Jimenez enjoys cooking, spending time with her family, and traveling.  
Dr. Nour Elkhatib
Dr. Elkhatib achieved his Bachelor of Science degree at University of Florida and his graduate degree and dental training at Nova Southeastern University in 2020. He has also been certified in Invisalign and Nitrous. "Endodontics is something I enjoy, as well as cosmetic cases that transform a patient's smile. I enjoy learning about new technologies and advancements in the field of dentistry."
He shared that his parents struggled with dental problems when he was growing up. It made him want to help not only them, but people who were struggling with issues like his parents. "I love the artistry that is involved, as well as the science and social aspects. I love meeting new people all the time, and I love being able to help them."
 An avid sports fan, Dr. Elkhatib can be found watching basketball and football in his free time. He loves hanging out with friends and trying new restaurants as often as possible. Traveling is also on his list of hobbies.
By forming connections with of his patients, Dr. Elkhatib is able to interact on a level that he finds incredibly important. This bond that he forms with patients is what makes the job worthwhile.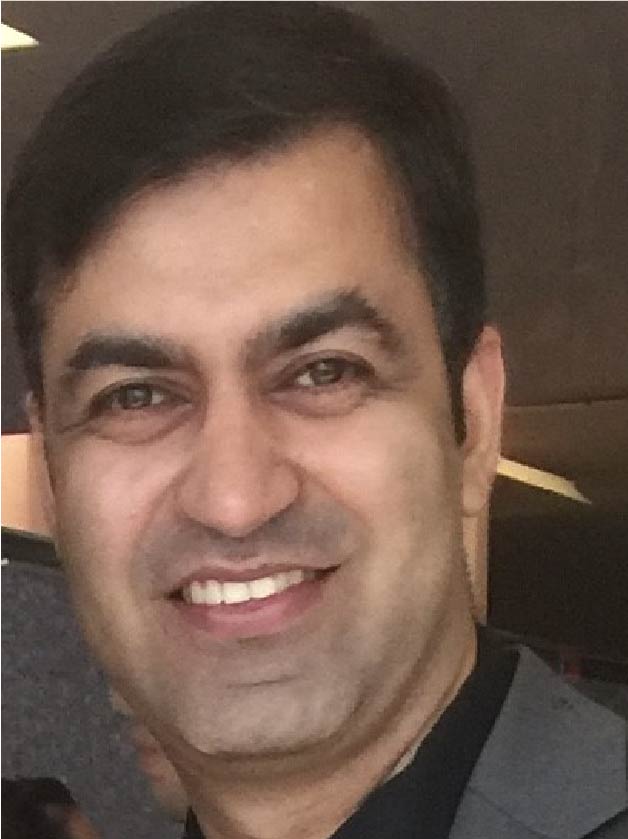 Dr. Karan Doomra
Dr. Karan Doomra, D.D.S., attended New York University (NYUCD). Dr. Doomra is committed to ongoing education, training and is a member of the American Dental Association, Academy of General Dentistry, and a member and fellow of International Congress of Oral Implantologists. He earned his Bachelor of Dental Surgery in India. Dr. Doomra is interested in all aspects of dentistry, but his focus is general dentistry, especially root canal therapy and implants. He also enjoys aesthetic dentistry, veneers, and crowns.
"I love to see a smile on patients faces and to make a difference in someone's life by giving them confidence, which comes from their good smile. I like to educate people about the importance of good teeth to improve and maintain overall health."
Dr. Doomra is committed to providing best-in-class patient care as the foundation of New Image Dentistry as he engages, connects, and builds trustworthy relationships that extend beyond the chair.
When Dr. Doomra is not in the office creating beautiful smiles, he spends his time reading, cooking, and playing with his dogs. He also enjoys doing adventurous things like sky diving and hiking.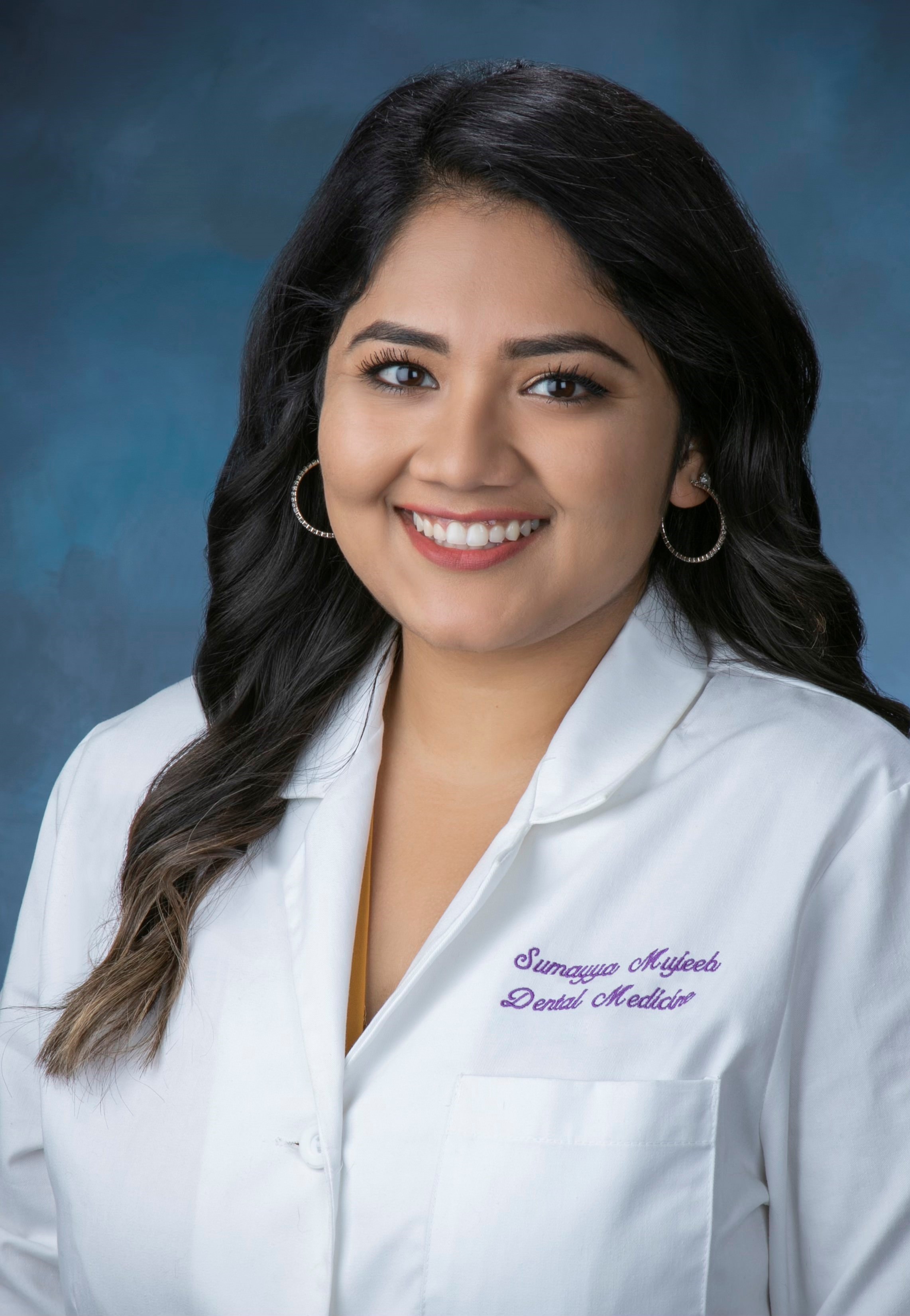 Dr. Sumayya Mujeeb
After completing her bachelor's degree in Microbiology at the University of Florida, Dr. Mujeeb earned her Doctor of Medicine, Dentistry from Nova Southeastern University in 2020. She is also trained in Invisalign and Nitrous Oxide.
"Dentistry provides me the opportunity to transform peoples lives through their smile. I get to meet so many interesting people every day. I'm presented with a new challenge daily. It keeps me on my toes!"
The instant gratification of dentistry is what drew Dr. Mujeeb to the career field. Being able to help relieve people's pain and change their smile in a relatively short amount of time draws Dr. Mujeeb to the satisfaction of dentistry. "I love being able to directly help people."
Dr. Mujeeb, among her other talents, is also able to speak Spanish and Urdu.
In her free time, Dr. Mujeeb loves spending time with her friends and family. Exploring local restaurants is always a fun adventure. She also enjoys checking out new podcasts.
Dr. Mohammed Ahmed
Dr. Mohammed Ahmed completed his DDS from the prestigious NYU College of Dentistry. Prior to that, he earned his Masters in Public Health, MPH from Benedictine University, Illinois.
During his time at dental school, Dr. Ahmed was intrigued with prosthodontic and implant dentistry. This keen interest drives him to continuously upgrade his clinical skills and keep up with the latest technology in diagnosis and treatment.
Dr. Ahmed strongly believes in imparting treatment that takes into account his patients' overall health, as well as their lifestyle requirements. His goal is to use his expertise to offer practical dental solutions without compromising on the standard of care.
He fills his spare time by indulging in his love for cooking, traveling, and spending time with his family and friends.
Dr. Mishall Waheed
Dr. Mishall Waheed received her Bachelor of Dentistry and Doctor of Dental Medicine from Cambridge International in Pakistan. She continued her education at Fatimah Memorial School of Medicine and Boston University Henry M. Goldman School of Dental Medicine.  She has additional training in CPR, clear aligners, nitrous oxide sedation, dermal fillers, and Botox.
Dr. Waheed pursued a career in dentistry because she feels dentistry is a beautiful profession. She feels it's not just about teeth - it's about people, interaction and making a difference in others' lives. Dentistry is where art and science come together! Her favorite part of dentistry is esthetic, functional dentistry and pain management.
In her free time, Dr. Waheed enjoys spending time with her daughter, exploring the city, reading novels and completing puzzles. She considers herself to have good communication skills, is a good problem solver, can show empathy and is someone who loves to learn new things. She also can speak many languages; Urdu, Punjabi and Hindi.